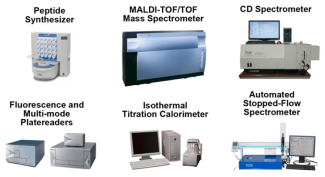 The Biological Chemistry Resource Center (BCRC) at the Department of Chemistry provides an open access user facility for state-of-art biophysical analytical instrumentation. The goal of the center is not only to provide access to instrumentation, but also supply the graduate student and postdoctoral scholar user community with a firm understanding of the scientific principles behind the techniques and on-site expertise to ensure successful experimentation. Instrumentation access will be available to the entire University of Pennsylvania research community. For more information regarding instrumentation access and services contact us at bcrc-chemistry@sas.upenn.edu.
CEM Liberty 1 automated microwave system: The Liberty 1 is used to synthesize custom peptides at scales up to 500 µmoles.  The microwave-assisted synthesis gives high purity products, a distinct advantage for long or complex sequences. It is complemented by the Accent cleavage station unit, to allow fast work-up after synthesis.
Bruker Ultraflex III matrix-assisted laser desorption/ionization time-of-flight mass spectrometer (MALDI-TOF/TOF MS): The MALDI-TOF is used to characterize molecular weights of labeled and unlabeled peptides, proteins as well as nucleic acids. It has an acquisition rate of 1 s/sample, and only requires a volume of 1 µL/sample.
Aviv circular dichroism (CD) spectrometer: The Aviv CD spectrometer is capable of performing wavelength scans and thermal denaturation studies from 190 to 800 nm. It is also equipped with an extension unit to measure both CD signals and fluorescence signals at the same time, and a titrator unit. It is used to characterize the structure and folding properties of peptides, proteins, and nucleic acids.
Tecan Infinite M1000 multi-mode and F200 fluorescence polarization plate readers: The M1000 plate reader can simultaneously read absorbance and fluorescence/luminescence with wavelength scanning, and the F200 can read fluorescence polarization at a two wavelengths. Both systems can perform 96 or 384 well scans in less than a min.
GE Life Sciences MicroCal 200 isothermal titration calorimeter (ITC): The ITC system provides a direct measurement of binding enthalpy (and indirectly, entropy) between a protein of interest and a peptide, nucleic acid, small molecule ligand, or lipid vesicle in a label-free platform. It can also be used to characterize labeled proteins in comparison to the native protein.
KinTek AutoSF120 stopped flow spectrometer: The AutoSF120 unit is capable of simultaneously measuring fluorescence and absorbance for wavelengths ranging from 180 nm to 800 nm at the ms scale. It is equipped with an automatic sample loader to allow high-throughput experiments from a 96 well plate. It is used to characterize fast binding or enzymatic processes that cannot be resolved on a standard fluorometer.
GE Life Sciences Typhoon FLA7000 gel imager: The Typhoon imager has phosphorescent and fluorescent/luminescent imaging modes, in addition to typical Coomassie stain imaging. It has a built-in program for analysis and quantification, and is frequently used to characterize fluorescently labeled peptides and proteins.
Protein production equipment: Instruments include four super-speed centrifuges (30,000-100,000 rpm) for cell pelleting and protein isolation, one small benchtop centrifuge for rapid buffer exchange, one static incubator for bacteria culture, two incubators with shaking and temperature control from 4 to 65 °C, and one sonicator for cell lysis. These instruments are capable of sustaining protein production and purification at up to 2 L culture scale.
Chemistry Department Use Only:
Labconco lyophilizer: The lyophilizer unit removes water and organic solvents using a sublimation process, for the recovery of peptides and small molecules after purification. It has 12 ports that can handle as many as 50 bulk samples simultaneously.
Cell culture facility: Includes two biosafety cabinets and four CO2 atmosphere incubators for routine mammalian cell culture. It is commonly used to assess the biological activity of organic compounds or labeled proteins.